Pidtrymka vid Netflix
9 kvitnja strymingovyj servis zapuskaje v svojemu akaunti v Instagram šou pro te, jak vporatyś z tryvogoju pid čas karantynu.
U veb-šou «Hočeš pogovoryty pro ce?» (Wanna Talk About It?) bratymuť učasť vidomi zirky serialiv vid Netflix.
Vže vidomi aktory, kotryh možna bude pobačyty seriali: Noj Sentińo (To All the Boys I've Loved Before), Džoui King (The Kissing Booth), Ross Batler (13 Reasons Why), Kaleb Maklafin (Stranger Things), Landa Konor (To All the Boys I've Loved Before), Džerri Harris (Cheer) ta Ališa Boe (13 Reasons Why).
Aktory obgovorjuvatymuť problemy, z jakymy zitknulasja moloď pid čas pandemiї. Sered nyh problemy zi snom, potreba v spilkuvanni pid čas sociaľnoї izoljaciї, tryvožnisť i značennja turboty pro sebe.
U prjamomu efiru takož bratymuť učasť profesijni psyhoterapevty ta fahivci z pidtrymky pid čas kryzovyh sytuacij, kotri rozpovidatymuť pro te, jak podolaty biľšisť problem, jaki vynykajuť pid čas karantynu.
Šou vyhodytyme kožen četver z 9 kvitnja po 14 travnja o 16 godyni za tyhookeanśkym časom ta o 5 godyni ranku za kyїvśkym časom.
Takož raniše my pysaly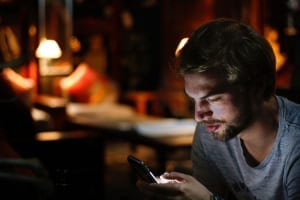 ⚡️Zapustyly virtuaľnu platformu emocijnoї pidtrymky pid čas karantynu, jak v Kyjevi zapustyly virtuaľnu platformu emocijnoї pidtrymky pid čas karantynu.
Pidtrymka pid čas karantynu
Čerez samoizoljaciju bagato ljudej zalyšylyś vdoma sam na sam, tomu śogodni zapustyly bezkoštovnyj resurs dlja kyjan, kotrym neobhidna emocijno-psyhologična dopomoga, povidomyv kyїvśkyj miśkyj golova Vitalij Klyčko.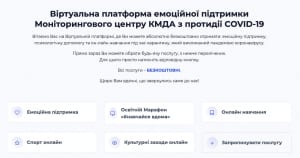 Na sajti možna otrymaty dopomogu vid psyhologiv ta treneriv z emocijnogo intelektu Osvitńogo habu mista Kyjeva. Ponad 20 specializovanyh fahivciv pracjujuť majže cilodobovo, a otrymaty indyviduaľnu konsuľtaciju možna cilkom bezkoštovno.
Do togo ž na sajti je spysok z nomeramy garjačyh linij deržavnyh ta komunaľnyh služb, kotrymy možna skorystatyś u razi nagaľnoї potreby.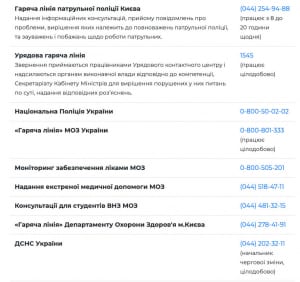 Takož na sajti možna znajty inši poslugy — resursy onlajn-navčannja, spysok kuľturnyh zahodiv v interneti ta programa dlja zanjať sportom vdoma.
Raniše my vže pysaly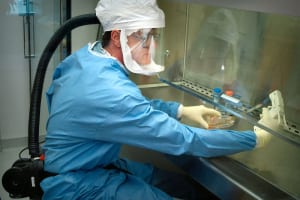 ? Vakcyna vid COVID-19: rozpočaloś testuvannja na ljudjah, jak rozpočaloś testuvannja vakcyny COVID-19 na ljudjah.