Počynajučy z 11 grudnja 2018 roku, Instagram-korystuvači majuť možlyvisť vidpravljaty golosovi povidomlennja v čati.
Biľše pro novu opciju Instagram
Dlja zapysu audio potribno vidkryty čat ta zatysnuty ikonku mikrofona u pravomu nyžńomu kutku. Golosovi povidomlennja ne možuť buty dovšymy za 1 hvylynu. Pislja vidpravky audio ne znykne z istoriї lystuvannja. Korystuvači  iOS i Android zmožuť skorystatysja novoju funkcijeju pislja onovlennja.
«Počynajučy vid śogodni, vy možete nadsylaty golosovi povidomlennja u čatah iz inšymy korystuvačamy. Govoriť tak, jak hočete, ščob vas počuly, čy to šepočučy pro svoї namiry čy to vykrykujučy komplimenty», – jdeťsja u povidomlenni rozrobnykiv servisu.
Starting today, you can send voice messages in Direct. Talk the way you want to be heard, whether by whispering what you're up to or shouting a compliment. pic.

— Instagram (@instagram) 10 grudnja 2018 r.
Do reči, neščodavno my pysaly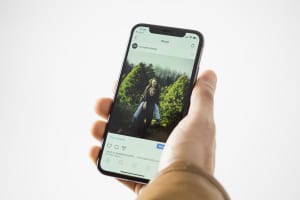 V Instagram dodaly opciї dlja ljudej z porušennjam zoru pro inšu dodatkovu funkciju socmereži dlja ljudej z porušennjam zoru. Vidnedavna u cij mobiľnij socmereži možna dodavaty do zobražeń avtomatyčnyj aľternatyvnyj abo vlasnyj opysovyj tekst.