#NegroniWeek – ščorične tyžneve svjato vidomogo koktejlju ta blagodijnosti, kotre vidznačajuť u vśomu sviti. Cogo roku prohodyť z 5 po 11 červnja.
Jak i čomu
Protjagom tyžnja u bagaťoh barah Negroni prodajuť za speciaľnoju cinoju – 80 grn. 50% vartosti pererahovujuťsja na rahunok Ukraїnśkoї Birži Blagodijnosti.
Samu iniciatyvu pidtrymujuť po svitu Imbibe Magazine ta alkogoľnyj brend Campari. Vperše Negroni Week vidbulasja u 2013 roci. Za try roky vid 100 zakladiv kiľkisť bariv ta restoraniv, ščo dolučylysja do ćogo počynannja, zrosla do 6 tys po uśomu svitu — a zagaľnyj vnesok u blagodijni iniciatyvy sklav majže $900 tys.
Dlja učasti bar maje avtoryzuvatysja na sajti negroniweek.com, obraty u spysku ti iniciatyvy, jaki kerivnyctvo zakladu hoče pidtrymaty blagodijnymy vneskamy ta počaty fonduvannja cyh iniciatyv. Takož možna zrobyty dodatkovyj vnesok po zaveršennju Negroni Week.
Jaki zi stolyčnyh zakladiv dolučylysja do iniciatyvy
Spysok kyїvśkyh bariv, ščo dolučylyś do blagodijnogo marafonu Negroni Week vključaje:
True Burger Bar
Zygzag
De Bosch
Wood You Like bar
BarmenDyktat
To Be
Buena Vista — Latin House
Kitty Twister
Avalon
Fly Bar
Black Tot Bar
Yummy Mummy
Rebra & Kotlety
Hvyľovyj
Regenschirm
Pink Freud KYIV
PR Bar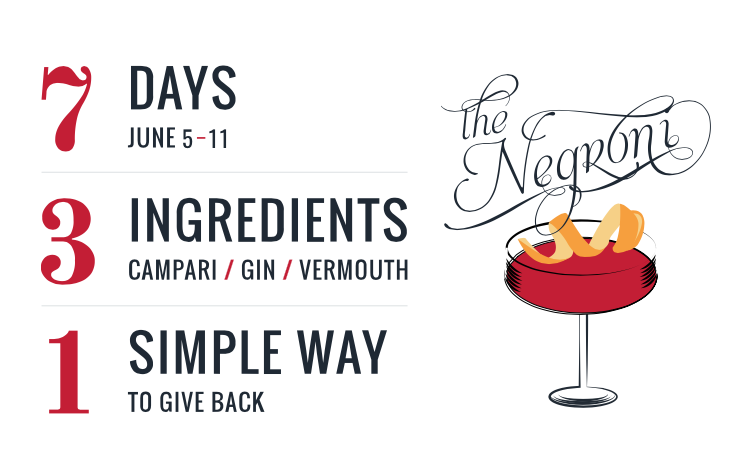 Podil East India Company
Old Fashioned Bar / 32
Duša cocktail — espresso bar
Device—Club Restaurant Karaoke Hall
Lost & Found
Café L'étage & Bel étage
MumuBar
1900 Gastrobar
Pizza Veterano
RockFellow 210 / TRAVA
Alchemist Bar – Kiev
Headquarters — HQ Bar
RAY
BEEF mjaso & vyno
7 Pjatnyc
Pod Asfaľtom Pljaž
Mr. ZUMA
Mercato Italiano
Gastro Bar Sribni Ložky
Parovoz Speak Easy
L8 Park
Hitchcook.